You might be surprised by what options you have. Already, in the late-90's, travel was abuzz on the web. And the competition was fierce.
---
It's 1997 and you want to go on a trip. Feeling more tech savvy than most, you skip the call to a travel agent. Instead, you pop open your web browser. You might be surprised by your options.
In contrast to the 90's web glitz and vigor of twenty-somethings launching Wall street backed dot-coms into the stratosphere, travel came to the web more deliberately and fully formed. The travel and airline industries have a storied and impactful legacy that walks alongside the information age. They were no stranger to cutting-edge technology. The very first travel websites, as a result, were spearheaded by executives inside of large corporations.
American Airlines began its first experiments with computers as early as the 1950's, when mainframes were still the size of a room and global networks were still theoretical. Networked computing in the 1970's gave the airline a way to connect travel agents to a centralized reservation system created inside of American Airlines called Sabre. In the 1980's, Sabre began to expand into consumer networks, letting customers book travel directly on networks like Prodigy and CompuServe, without needing to go through a travel agent. This was known as eAAsySabre, and was often set apart from the rest of the business, forced to walk a line between ease of use for customers and ongoing relationships with travel agents.
By the mid-1990's, experiments on the web began, though not necessarily with air travel. David Litman and Robert Diener adapted their hotel booking telephone service to the web in 1995. Their website, hoteldiscount.com, was one of the earliest examples of direct travel booking on the web. By filling out a simple form, hoteldiscount.com connected vacancies in hotels with customers that needed them. By the time the site rebranded as Hotels.com, it would be one of the largest hotel reservation networks in the country.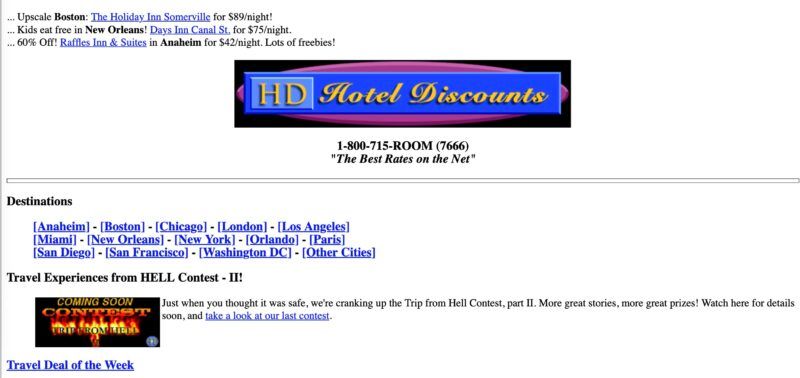 eAAsySabre's destinations on proto-Internet networks like CompuServe had proved that there were plenty of travelers that wanted to book their flights directly. Their early technology could be kludgy, and required customer service representatives behind the scenes to do the actual work of booking flights, but it was popular nonetheless.
The web had a special appeal. It made the process of collecting reservation requests much simpler, and allowed for a more friendly and intuitive interface. Though initially met with some resistance, a team inside of Sabre led by Terry Jones launched Travelocity in 1995.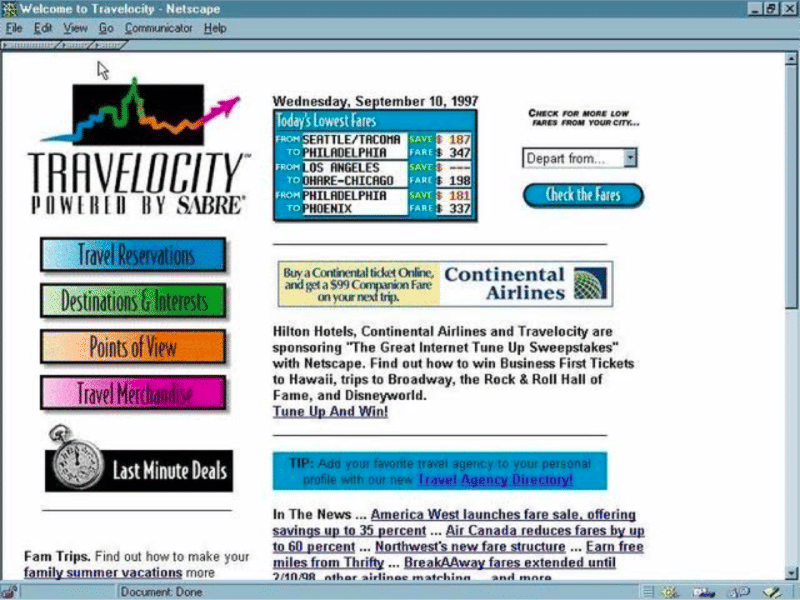 Travelocity took what was easy about eAAsySabre and put it on the web. With the ability to feed data directly from their reservation system, and collect requests through a form-based web interface, the process of booking flights almost as simple (if not simpler) than going through a travel agent. This would not go unnoticed by travel agents incidentally. Travelocity, and other web-based travel booking solutions, would face push back from the travel industry for years.
Just before launch, Jones and his team had a few conversations with Microsoft. At the time, Microsoft was trying to make up for lost time, aggressively expanding into the Internet they had spent the first half of the 1990's ignoring. While working at Microsoft, Rich Barton was tasked with building an Encarta style travel guidebook on CD-ROM. He told Bill Gates that it was a bad idea, and showed him an early version of eAAsySabre instead. Overnight, the project shifted to an Internet-based booking service.
Barton talked with the Sabre team to see if there was any partnership opportunities. But the talks broke down and Microsoft went heir own way. In 1996, Microsoft launched the first version of Expedia. Expedia built on what Travelocity and other smaller startups had brought to the web. At launch, Expedia allowed its customers not just to book flights, but car and hotel reservations as well.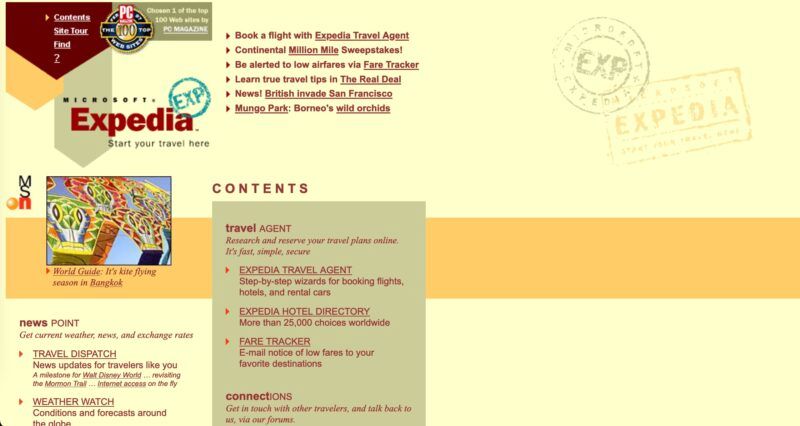 The promise of travel on the web was difficult to resist. It is one of the largest industries in the world, and has been monopolized by several large corporations. But in this instance, the industry was ready for their own disruption, and by the time startups came to challenge them, they had already established a presence.
Swept up in the fervor of the dot-com bubble, travel startups sprouted up to try and challenge their well established rival, each one with a gimmick meant to draw in customers: TravelWeb, Reservations.com, Biz Travel, and on the list goes on. Priceline, in particular, would become notorious for its over the top ads starring William Shatner and a business model that rested on giving tickets to customers for cheaper than they were able to acquire them in the dot-com version of "fake it til you make it."
However, as competition increased, consolidation filled the gaps. Travelocity partnered with their direct competitor PreviewTravel to try and challenge Microsoft and Expedia. AOL and American Express each set up their own travel portal. In a bid to keep up with sites like Expedia and Travelocity, airlines began to concentrate under a single banner. Continental, Delta, Northwest and United created Orbitz, an air travel booking site. Six major airlines invested in the launch of Hotwire, a Travelocity competitor. Booking.com began as a Dutch only hotel site, before it reached across the globe. Nearly every major player launched into the market came with the backing of a major airline. Even Priceline eventually gathered support from Delta.
The travel industry waas not easily shaken, and faced with pressure and escalating terms from travel agents, airlines, and hotels, most of the smaller companies were forced to back out. Familiar names backed by traditional travel or tech companies took the lead. And the way we travel was changed, but the companies we travel with was not.