People thought a magazine about the web would never work. People thought a magazine about the web on the web would never work. They both did.
---
Chris Anderson didn't know too much about how to run a business. What he did know a lot about was 8-bit computers. Particularly his personal computer of choice, the Amstrad CPC color home computer, a lesser known competitor to the Commodore 64.
When he pitched his idea for an Amstrad focused magazine to a local bank near his home in Somerset, England, he showed some modest projections of growth. There were, after all, plenty of Amstrad power users on the market and he felt he could capture their attention. The pitch secured him a 25,000 pounds loan. Shortly after, he started his first magazine, Amstrad Action.
Within a few years, he transformed that magazine into a widely successful conglomerate of publications known as Future Publishing. Though Future would eventually expand to hundreds of publications and hundreds of thousands of subscribers, it retained Anderson's unique approach to business for years. They were, for instance, one of the first companies to attach free software — in the form of disks and CDS — to the front of their magazines. Their publications focused on niche communities and targeted content.
Anderson left Future Publishing twice. The most recent time was in 2001, when he spun off the conference wing of the company into a new non-profit TED. Years before that, Anderson had a brief time away from the company. In 1994, he sold to the publishing giant Pearson. A year later, he bought the company back, along with other investors, at three times the price. He wasn't ready to leave.
During this transition, Future launched a small magazine geared to a still growing group of Internet aficionados — netizens as they were sometimes called. The magazine was titled .net.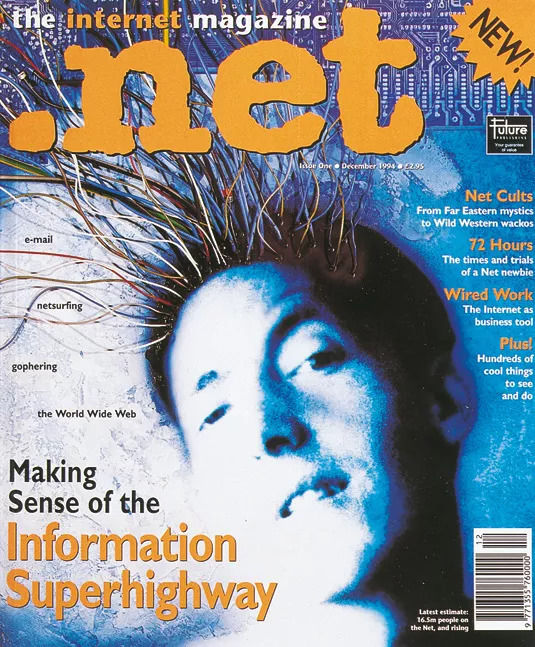 .net targeted practitioners of the web, designers, developers, writers, and builders of a digital future. It took a few years to find their footing, but .net soon became a reliable stream of internet-geared content. Issues were punctuated with regular columns by returning authors, like the offbeat Hi Monkey! column or a list of editorial favorites known simply as the Feed. This was mixed with interviews, tutorials, software reviews, and tips for the web crowd, alongside deep dives and op-eds into the culture and advancement of the web.
Future had put together a print magazine for the web before most people had downloaded their first browser, which gave them first mover advantage. But more than that, .net helped to push the web design profession in a legitimate direction, giving that community its first dedicated trade publication. It was written by and for web designers, meant for both beginners and veterans.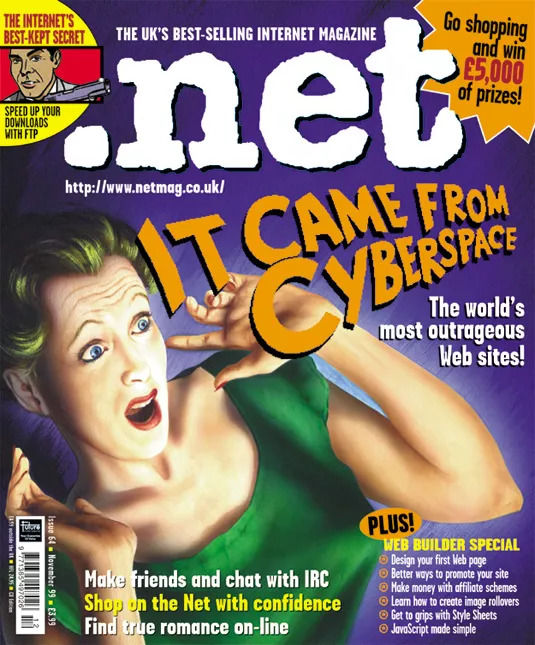 Though it was created for an online world, .net has always fundamentally been a print magazine. Like other magazines in the Future Publishing repertoire, it shipped with some web editing or publishing software attached to its cover. .net had a website, of course. Over the years, it would go through several large redesigns. But this was always in parallel with re-brandings of the print edition, or as new editors were brought in to replace exiting ones.
Actual printed pages made it almost a novelty among web folk; a rediscovery of a medium they were increasingly leaving behind. This tether to the tangible (as opposed to digital) world has worked both for and against .net over the years. As readers became more and more accustomed to reading articles online, and especially to copying and pasting code examples, they looked for native online sources.
That particular point seemed obvious to Matt Mickiewicz. While he was in high school. In 1998. At the age of 15, Mickiewicz purchased the domain Webmaster-Resources.com and began compiling and publishing tips and tricks he picked up building his first websites. Mickiewicz's articles were focused and concise. They outlined a web development problem and posed a clear solution. With little competition, and well-written articles added daily, Mickiewicz picked up a growing base of readers quickly.
His first lesson in online branding came knocking on the door early. After months of hard work, Mickiewicz got his site featured in Windows Magazine. They had a circulation that numbered in the hundreds of thousands — and they had a full page spread about Webmasters Resources. But they forgot the hyphen in the domain name (WebmastersResources.com, not Webmasters-Resources.com). Without modern search engines to orient themselves, most users gave up when they couldn't find the site from their address bar. Thousands of people looked for a site, and never found it.
After that, Mickiewicz did two things. He brought on Mark Harbottle, an engineer at Sausage Software. He had worked at the company when they released the HotDog HTML editor and rocketed to success. Harbottle shared Mickiewicz's passion, and thought the site could do a lot more. So the second thing they did was rename the site to Sitepoint.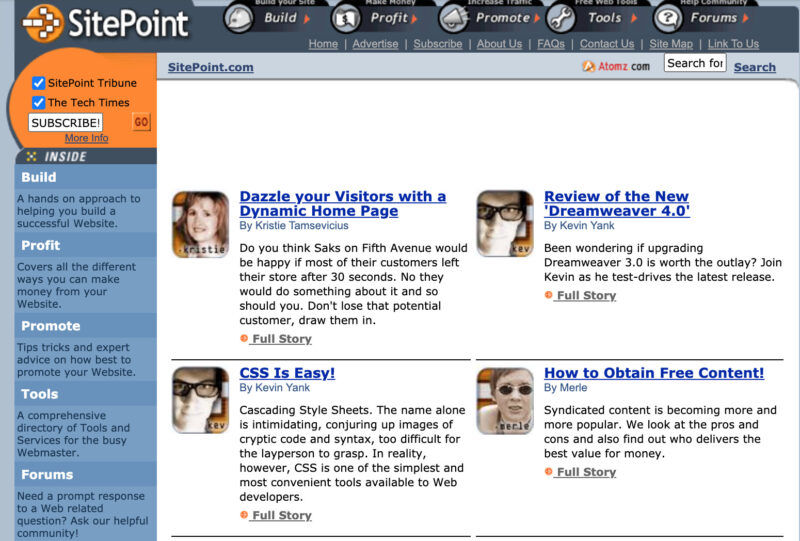 Over those next few years, Sitepoint grew rapidly. They recruited a network of guest authors (though much was still written by Mickiewicz himself) and organized the site into logical sections around different technologies. Each article was always focused on something simple, mostly code. It jettisoned the web culture thinkpieces of its print predecessors in favor of practical guides.
Sitepoint was in a constant state of evolution. Mickiewicz and Harbottle have shown an uncanny ability to respond to the needs of their community. For years, Mickiewicz had been running a newsletter which grew to thousands of subscribers. They would often him email him back with a question or a comment. He would always respond, so people kept coming back and answering more questions.
As an extension of that, they added forums for people to talk to one another right on the site. When the community began to sprawl in every direction, they hired a community caretaker manager to reach out to regular readers and get feedback. When readers wanted more in-depth guides to single topics, they began converting site content to purchasable books. When they found that some business owners would hold contests to find the best website designs, Sitepoint spun that concept out into a site of its own called 99Designs. When readers started swapping domain names and websites, they did the same thing with Flippa. With Sitepoint, it has always been one thing after another.
That proved to be a valuable attitude in the wake of the dot-com bust of the early 2000's. Sitepoint adapted to a collapsing advertisement business model with a turn to the publishing industry, and then their other businesses. .net magazine managed to stay afloat during rocky waters, once again re-inventing themselves with a redesign and a greater focus on the website at the dawn of Web 2.0 in the mid-2000's.
Content on the web had changed. At the height of the dot-com bubble people wanted to reach everyone, everywhere. In the wake of it, niche, focused writing became an asset. Both .net and Sitepoint were already well positioned to accommodate a growing need for practical advice, interviews with real people, industry news that was immediately relevant.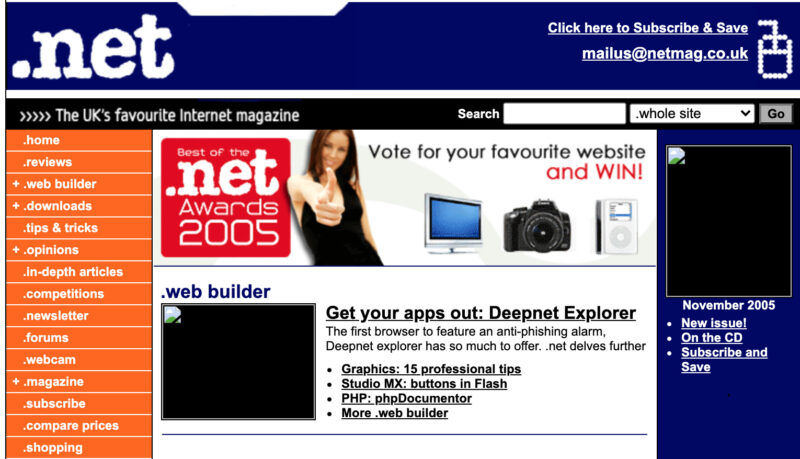 As time went on, new online blogs and magazines launched, many emulating or building off of the work of .net or Sitepoint. By the mid-2000's, A List Apart had already been gaining momentum for years. But it was joined by Smashing Magazine, Six Revisions and Envato in 2006. CSS Tricks launched a year later, in 2007.
Suddenly, web designers had options. There were publications tailored for every facet of the web practitioner. They were joined by a rich blogging tradition that continues to this day. All from the seeds of small ideas, distributed widely.