Let's go back to 1996, in Boston, at the annual Macworld Expo. Not a great year for Apple mind you. It wouldn't be until a year later that Steve Jobs would make his return, and sales were at an all time low.
But it was an excellent time for the web. In June of 1995 there were around 23,000 websites. In June of 1996, that number jumped to almost 260,000 (for those following along, that's a 1000% increase). The web was having its day (or year). Consequently, Boston's World Trade Center was packed wall to wall with the latest and greatest HTML editors. Taking a walk through Macworld Expo that day was a crash course in the latest editor features and the great debate between text and WYSIWYG.
If you were looking for the largest booth of the bunch, that probably belonged to Bare Bones Software. Bare Bones had been putting out BBEdit since 1992. BBEdit was a text editor, plain and simple. Well, maybe not simple. In 1994, the editor released HTMLExtensions that included syntax highlighting, quick browser previews and built-in templates, soon introducing those as core features. If you stopped by their booth, you could check out BBEdit 4.0.1, which let you save files directly to your web server. Pretty slick.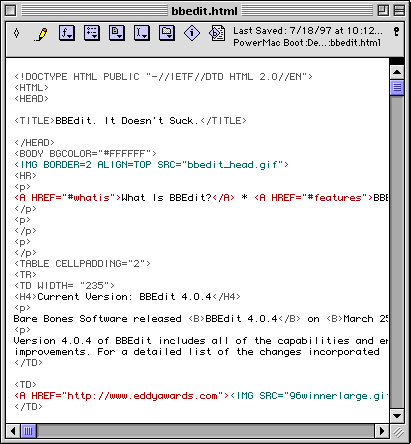 Peel yourself away from the BBEdit demo, and HoTMeTaL was waiting for you next. And it couldn't be more different. HoTMeTaL was a WYSIWYG editor (What-You-See-Is-What-You-Get), and kept things pretty visual. Its hot feature was a "Tags-On" view which took a structured document and made it way easier to read. This was before CSS, so those styles weren't actually transferable. But it made editing standards-compliant websites a lot simpler. Not much news from the team, but 3.0 was due sometime very, very soon.
Adobe, on the other hand, had some very big news buzzing around the expo. They were releasing PageMill version 2 as a public beta, and they brought their A game. Page Mill 2.0 stepped things up from the previous version, and now everything was visual. Forget a text editor, PageMill 2.0 let you move elements around, drop background images in, change colors with a color picker, and probably most importantly, add a table or frame-based grid. Page Mill 2.0 would mess with your code, but semantics be damned. It was just about the only tool on the market that gave you complete visual freedom.
Floating around the expo were also a couple of newcomers. GoNet was demoing its new product GoLive. In 1999, GoNet would be acquired by Adobe and eventually give way to a little piece of software called Dreamweaver. But in 1996, they were showing off GoLive 1.0, one of the first editors on the market to make heavy use of drag and drop functionality. But GoLive's real edge was that it leaned into Netscape, hard. It had built in support for Netscape-only tags, so you could edit fonts and colors and images and your site would look great (in Netscape at least).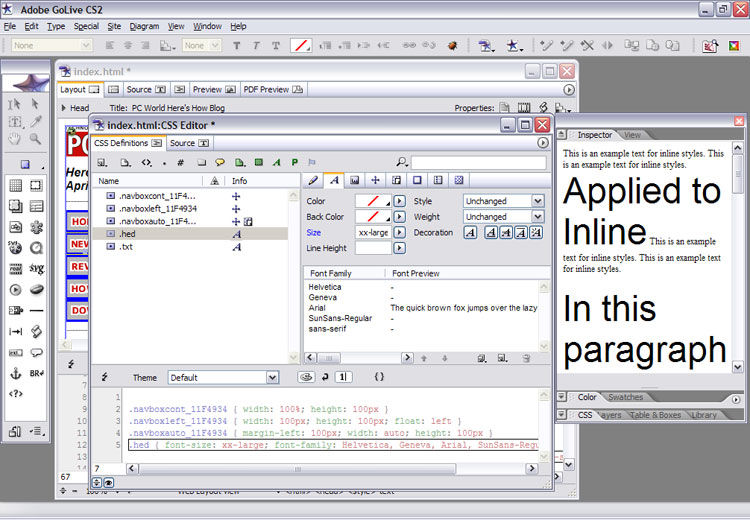 Finally, Claris Home Page debuted at the Expo. Home Page came bundled with a toolbar that let you easily create tables and frames without touching a single line of code. It was a bit clunky out the gate, but that day on the floor, they were promising some great new features. Unfortunately, things wouldn't last long for Home Page. By 1998, Claris released version 3.0 of Home Page and soon after, discontinued the software.
But if you were really in know back then in 1996, you would have noticed that there was a brand new editor missing from the group: FrontPage. Microsoft had just purchased FrontPage from Vermeer Technologies, and had begun rolling it out on their own operating system. Earlier in the year, Microsoft had announced Internet Explorer for Mac (and a year later, Jobs would declare this to be Mac's default browser). FrontPage, on the other hand, had no Mac support yet.
There were plenty of HTML editors at Macworld, but it would be FrontPage that was the true game changer. Unlike most of it's competition that tailored their products to web developers, FrontPage was specifically built for amateurs. FrontPage resembled a document editor more than a design or development tool, and created it's own niche: web authoring. FrontPage rode the wave of the web's popularity, and stayed ahead of the curve. Making a web page became as easy as creating a document in Microsoft Word. In the years to come, FrontPage became many a user's introduction to web publishing.
But no one knew that in 1996. On the floor of Macworld Expo, there were many debates about web standards, and WYSIWYG vs text editors, and the newest proprietary HTML tags. It was a race to the top. And at the end of the day, the web itself was the real winner.