On the early web, some content pioneers experimented with interactive, community-fed, literate smut.
---
In the mid to late 80's, a group of undergrads met at Brown University. They were immersed in the liberal arts—semiotics, philosophy, visual art—and in any other generation bound for careers as professors or editors or marketers in the media field. But this group, spurned by an unwelcoming job market and a rising computer literacy in the general public, turned to the web instead and became the backbone of the popular tech scene in New York known as Silicon Alley.
Among them was Steven Johnson, who joined Stephanie Syman to launch Feed, one of the earliest online magazines. The group also included eventual head of MTV interactive Nicholas Butterworth, who got his start creating the web-based bulletin board SonicNet. Mark Tribe was also part of that class, and he would go on to create a virtual community called Rhizome. But one of the last of this class to get started—and certainly the most enigmatic—was Rufus Griscom, who created the erotic online magazine Nerve alongside his partner Genevieve Field.
Griscom met Field when at a publishing house, where they both worked as editors. They hatched an idea early for a literary erotica website, that leaned into nude photographs of real people's bodies, and longform articles where nothing was off limits. Griscom watched from the sidelines with interest as his friends from Brown in Silicon Alley began to shape what a site like that would even look like. Then they gave it a name: webzines. Webzines like Word and Suck and Feed were cultural products born on the web with their own editorial mannerisms, aesthetic, and attitude. Zines were pithy but often not short (word count doesn't cost a thing when its digital), blending sarcasm and wit with sharp criticism of the mainstream cultural status quo.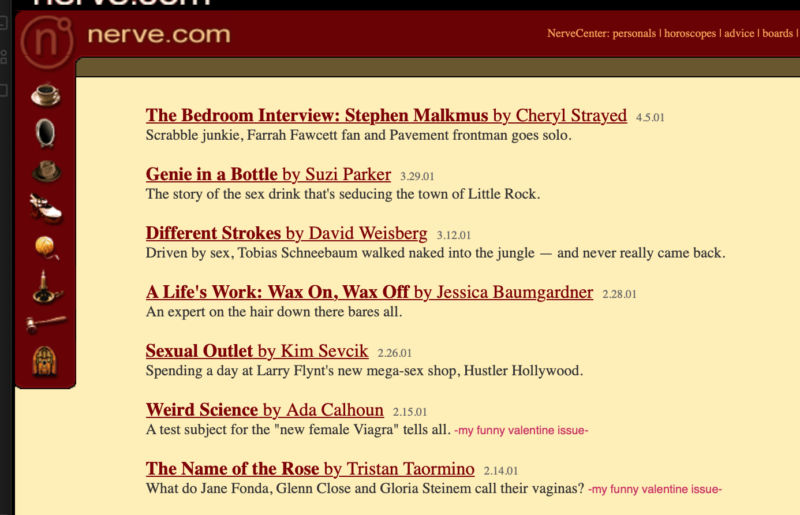 There was something else that stopped Griscom and Field from launching their idea: the law. It wasn't until the Communications Decency Act was amended in 1996—which enabled a much wider set of content to be published to the web without censorship, a huge victory for the open web—that Field and Griscom felt they could launch something official, and maybe even attract commercial investors which so many of the soon dot-com bubble had already done. The day after the Communications Decency Act was passed, they launched Nerve.com.
Conceived as a spiritual successor to the Playboy of the 1950's and 1960's, Nerve's take on the webzine featured experimental formats and bold nude photography paired with longform editorials exploring sex, gender, sexuality, and relationships. As a product of the information age however, the content on Nerve was decidedly more cerebral and high-minded than most pornographic sites of the early web—"Playboy's body with the New Yorker's brain," as a writer from Entertainment Weekly would later put it. The site—and its writers—were able to create a unique editorial voice that was friendly, open, and sex-positive. "Literate smut," as its slogan read.

But what really set Nerve apart was the way it centered its two enigmatic founders, Griscom and Field. The first version of the site even featured a picture of their coffee table that subbed in for the site's navigation. But that was just the beginning. Because of the explicit nature of the site's content and the fact that the two were actually dating, Griscom and Field found themselves in the spotlight. They were interviewed by Charlie Rose, featured in Time and Newsweek and had a whole HBO documentary produced about them.
But it was a position they soon relished. The duo would throw lavish (and occasionally obscene) parties on behalf of Nerve. And each—consciously or not—cultivated a public persona that intended to match the voice of the site: out, loud, and not safe for work.
Their public exposure and popular editorials helped launch Nerve to a huge level of success very quickly, leapfrogging some of Griscom's classmates. By 1999, against the backdrop of what would soon become the dot-com bubble bursting, they were able to make their first acquisition, a like-minded community known as Bianca.com.
Bianca.com was one of the earliest sites ever on the web, and certainly among its first official communities. It was developed by Jill Atkinson, Chris Miller, and David Thau in 1994 in the night hours after they logged from their day jobs at Hotwired (making it the second site launched by a Hotwired employee in secret). They built the software that ran the site themselves, because nothing like it existed yet.
In its simplest form, Bianca.com was a series of chat rooms, forums, and guest books grouped into different categories where people could go looking for a bit of x-rated fun mixed in with their everyday conversation. Its community congregated primarily around topics of sex, from the mildly suggestive to the outright pornographic. But it also blended high brow discussions of culture and media with its smut. "It was smart high, minded, a peep of class amidst orgiastic moans of crass," went one description from Wired
The site used the fictional persona of Bianca as a way to give it a bit of personality. Stories about Bianca were littered all through the site. She welcomed visitors into her "home" on the homepage, and visitors could navigate around by clicking through a crude, hand-drawn map. Each "room" in the house centered on a different theme and salacious backstory. Enter the kitchen for recipes to get in the mood, and the bedroom for wildly explicit dreams, for instance. The site was maintained by Bianca's Trolls—a word that had a different connotation that in it does today—a group of moderators who's job was to "maintain the shack, but they do not govern it… [to] quietly try to provide you with the tools to accomplish all your hearts could desire."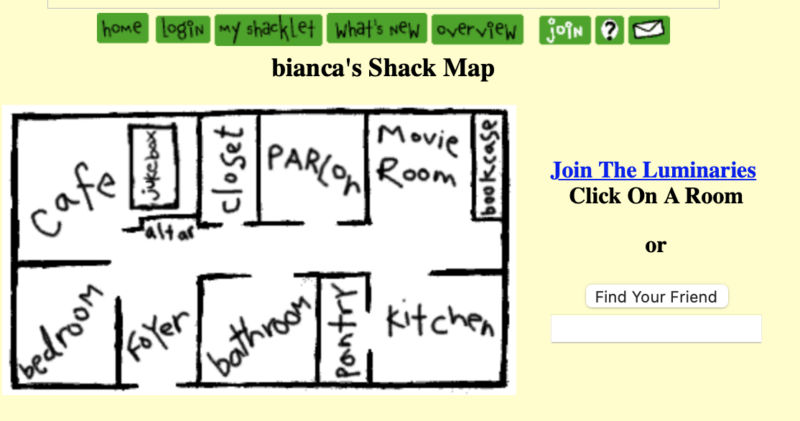 But it was the crowd of people that gathered at Bianca's smut shack that made it a cult hit of the early web. It would never quite hit the traffic of publications like Playboy, or even Nerve, but it did gather a larger and larger base of loyal visitors. Between the raunchy exchanges and links to pornographic images, members would chat about books, movies, philosophy, and trade in occasional life lessons. Beneath its smut-covered veneer, Bianca was simply a place to have a conversation.

Which made it a good compliment for Nerve in the late 90's; Nerve provided the editorial and Bianca could provide the discussion. Bianca was never quite able to figure out how to make money, after all. It experimented with memberships and advertising, but neither proved sustainable in the long run. In May of 1999, when Nerve acquired Bianca, it was as much a lifeline for the site as an equitable partnership.
But this was 1999, and within a year, the stock market would come crashing down, brining most of the dot-com world with it. Nerve couldn't hold on for very long. In the aftermath of the dot-com bubble burst, Nerve struggled to foot the bill for the bandwidth created by Bianca's large community and they announced plans to shut the site down. Still, Bianca held on for several more years. But after years of neglect, the site was swarmed by vandals looking to spam or diminish the site. It eventually was taken offline completly.
Nerve continued to operate for several years following the dot-com collapse, and grew its magazine publication, and even won a few awards in the later half of the 2000's. But it too eventually folded under new ownership and by the 2010's was no longer publishing new content.
Bianca and Nerve almost struck a partnership that could've lasted. If only they had got the timing right.