Back in the earliest days of the web, some blogs used to have a blogroll. Somewhere on their site, usually in the sidebar, they'd list out a few links from their favorite blogs in no particular order. Before search and social media, the blogroll was key to discovery on the web and connected readers with stories and experiences they would never otherwise get a chance to see.
This is my blogroll.
Presentable #51: An Oral History of Web Standards With Jeffrey Zeldman
I'll be honest. I haven't had a chance to give this a lesson all the way through yet, but what I have heard so far is pretty great. Long time web pioneers Jeff Veen and Jeffrey Zeldman reminisce about the old days when the web was young, starting with their own experiences and moving on the creation of the Web Standards Project and the incredible influence it had on the web's trajectory.
The 'Capable Web': A 10 Year Retrospective
Hey look at that, Chrome turned 10 this month! Developer advocate Paul Kinlan takes us on a trip down memory lane through the very first days of Chrome, the evolution of the browser, and the many, many technologies that got us to where we are today.
How designers cope with ever-changing iPhone screens
Just in time for the release of the latest iPhone, Eleanor Cummins takes us through the ever-evolving landscape of iPhone devices and tells the story of designers and developers struggling to keep up. From responsive design to the notch, Cummins explores the multi-faceted world of mobile web design and the many challenges we still face today (featuring a special shoutout to this very newsletter, thanks Eleanor!).
Growing Old in New York's Snarkiest Early-Internet Community
I'm still ironing things out for a story about communities on the Internet before the web, but here's a cool sneak peek. It's the tale of Echo (East Coast Hang Out), an online bulletin board system created by Stacy Horn in the early '90's. The community was small, but fiercely dedicated and massively influential, it still runs to this day. Members of that community would go on to help the web realize its full potential.
I leave you this week with a tweet and a picture: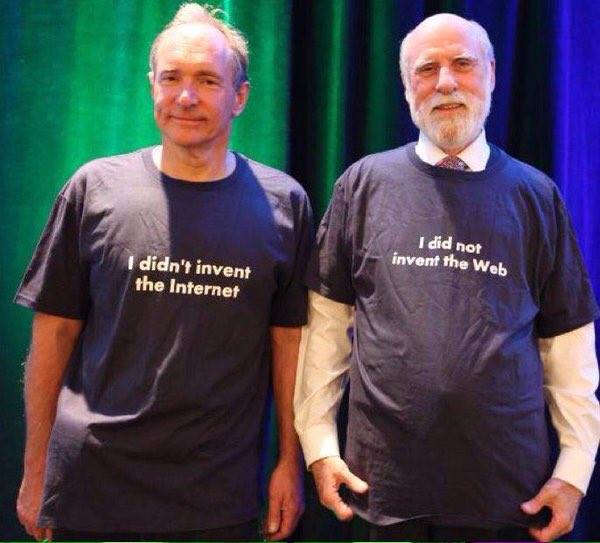 In case your ever confused, on the left is Tim Berners-Lee, inventor of the World Wide Web. On the right is Vint Cerf, a man instrumental in the creation of the Internet. And just to be clear, neither is responsible for the other's greatest inventions :).