I recently went on a bit of a journey to figure out: did Queen Elizabeth surf the early web?
---
I've been experimenting from time to time with a new format. I do a bit of research, then give myself an hour on the clock to write about it (inspired by this post here). I'm tentatively calling it an hour to teach you.
This month, I have an hour to teach you about Queen Elizabeth II on the web.
While doing research for something else entirely, I came across an article from 1999 in The Sunday Times with a compelling lede:
The Queen has just become the latest and most prominent supporter of Linux, the "free" Open Source version of the Unix computer operating system.
It goes on to say that, in addition to her open source advocacy—which really just meant that her website administrators had switched to using the open source Apache server on Linux—she's also an avid user of the web. "Her Majesty, while she's a keen web surfer," the article continues, "it's not known if she's aware of the changes on her own website."
That left with a question. Was the Queen of England, indeed, a "keen" web surfer. I was very interested in whether or not that was true.
As it turns out, this is a topic that's been covered before. The Royal Family of England has been known, over the years, for its media and technology savvy. The Royal Family's deft use of their relationships with the British media has been a source of both fame and controversy for them. But Queen Elizabeth in particular has often been at the forefront of technology.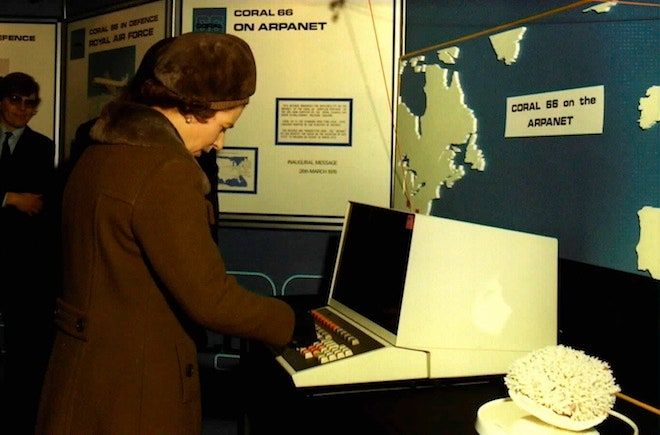 Speaking of the Royal Family Website, it's launch happened at Kingsbury high school in London. In 1993, parents at Kingsbury voted for the school to be given grant maintained status. This gave it both independence in dictating its curriculum and future, as well as eligibility for government grant funding. Over the next several years, Kingsbury would use that funding to expand its offerings and more closely limit its admissions; creating a leading technology program and curriculum for its students in the process. It is for this reason that in the spring of 1997, Queen Elizabeth traveled to Kingsbury high school and stood in front of a classroom of students, with an image of the new Royal Family website on the projector screen behind her.
Her appearance at the school was to present the Royal Family website as a source of publicly avaialble information, a resource out on the open web for people to directly access the Crown. It was the kind of technology that would, of course, be fascinating (and a bit surprising coming from one of England's oldest institutions) to a students of a tech-focused high school who were already becoming familiar with the growing web.

But it also served another purpose. The whole thing was quite public and not without reason. The trip positioned the Queen as once again at the forefront of technology. It is an image that Britain's Royal Family has carefully selected for her again and again, at each wave of technological innovation. It's what resulted in cameras flashing as she stood at a computer terminal to send an email in the mid-70's, or the creation of social media accounts with each new major platform. It is seemingly important for the English monarch to evolve as the world does—to not be seen as out of touch—and associating the Queen with cutting-edge technology is an accessible shorthand for delivering that message.
Here's my original question: in 1997 (and even today) was Queen Elizabeth a "keen web surfer"? Well in 2005, she allegedly told Bill Gates that she almost never goes near a computer. So, probably not. And yet the fact that it's mentioned at all is revealing. The Queen may or may not have been an avid surfer of the earliest days of the web. But, it's very important that you think she was.