A single website changed his life, and set him on a path to activism, and ultimately, exile.
---
In 1998, a student in Bahrain created a website. That same student would create several more websites over the years—at one time even going under the moniker the Bahrani Blogger. His first website was called Bahrain Online, a message board and forum used as an exchange for political debates, particularly by Bahrani opposition to the nation's rulers.
To avoid legal ramifications and censorship he decided to keep himself anonymous. It would only be years later that Ali Abdulemam would reveal his true name and begin blogging using it.
The history of Bahrain Online runs parallel to the modern history of Bahrain, a history that has been, at times, politically fraught and turbulent in the information age. And so the fate of Bahrain Online has been tied to the changes of the island nation, and the fate of Abdulemam has been tied to the site he created in his youth.
In 1998, Bahrain Online was one of the web's earliest forums, and certainly among the most politically influential. At a time when the web was still finding its purpose, Abdulemam recognized it as a vital current for an open exchange of information. Abdulemam, using a pseudonym, blogged regularly about regional news several years before the blog was officially formalized. A groundswell movement of opposition activists in Bahrain flocked to the site to engage in politically driven conversations and discussions.  Free from influence from any government, the web provided a way to give voice to those not often able to express themselves fully in public without potentially violent backlash.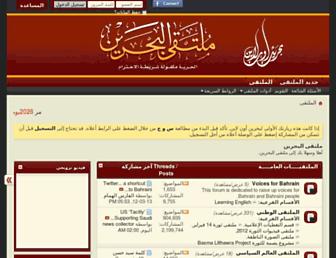 Bahrain began to change in 1999, when the latest successor of the royal family, Hamad bin Isa Al Khalifa, came into power. Al Khalifa introduced several democratic reforms and brought the country closer to its neighbor, Saudi Arabia, as well as the entire national community. Believing that change was near, Abdulemam even began blogging under his real name. It was a move that would later prove to be his greatest miscalculation.
In 2002, Al Khalifa reversed course and declared himself king, and Bahrain a monarchy. The government began to centralize power and crack down on the opposition. The state-controlled Internet Service Provider went as far as blocking access throughout the region to Bahrain Online in an attempt to silence the conversations happening there. Users could still access the site using a VPN, but it greatly reduced its ability to operate out in the open.
Then, in 2005, Abdulemam was arrested, and not for the last time. The government cited fomenting hatred and violence on his blog as the reasons for Abdulemam's arrest.
Over the years, Bahrain Online has been a source of inflammatory, and sometimes violent, exchange. Critics of the site have pointed to this material as a sign that free from moderation or influence, the site can act as a lightning rod for violence, and the seed of rumors, misinformation, and defamation. Some Bahrain activists and political figures have distanced themselves form the site.
And yet, even those who pushed back on the content of the site had to admit that detaining Abdulemam without hope of release was a disproportionate response. One owner of an independent newspaper in Bahrain who was often critical of Bahrain Online stated, "I have to defend them even if I don't like them. I don't care if they insult, but the government does. It is afraid."
Pressure from the Bahrain, and international community, forced the government to release Abdulemam. Bahrain Online, at this point run by a team of people working alongside Abdulemam, continued to operate. As the web evolved, the site did as well, gathering new tools and features for discussion.
However, in 2010, Abdulemam was arrested again, this time on charges of spreading false information. He, as well as other maintainers of the site, were thrown in jail without any communication to the outside world. Abdulemam would later claim that his charges were never made clear, and that he was tortured and forced to write a false confession. He was to be charged for fifteen years for the confession he was forced to sign ("Fifteen years for what? [An] online website? This is a joke," Abdulemam would later say). Abdulemam began to plan his exit.
When Twitter began gaining momentum in the late 2000's, Abdulemam—as well as many other public figures and activists around the world—began using the site. Twitter was often the place where public proclamations were made. It acted as an amplifier for the conversations happening on Bahrain Online.
The Arab Spring brought a wave of pro-democracy and change-driven protests throughout the Middle East. Online platforms such as Twitter and Facebook were used as a way to amplify the voices of activists and organize protests throughout the region. It was a time of extreme optimism for a promised, user-driven Web 2.0 finally coming to pass.
Bahrain was not immune from the Arab Spring. In early 2011, a series of protests and demonstrations began to sweep the nation, calling for an end of monarchic rule and and greater political freedoms. Many protesters turned to larger platforms like Twitter, but Bahrain Online also acted as a central meeting and discussion point that could be hidden from government view. Without the infrastructure that Bahrain Online, and its ring of contributors and bloggers, created, it would be difficult to organize in the country.
I get tired from my phone so I switched it of no need for rumors plz
Then, he went into hiding.
Abdulemam would not resurface for three years, finally emerging in London and ready to tell his story. For years, Abdulemam had been hiding in Bahrain, in a location unknown even to his family. In 2013, he made a daring escape in the trunk of a car and found political asylum in the UK.
Throughout it all, Bahrain Online had managed, for the most part, to stay online until 2018. It has been blocked by the Bahrani government throughout its history, but has maintained its servers elsewhere. In 2015, Bahrain revoked Abdulemam's citizenship, though he and his wife have continued to advocate for oppressed groups in Bahrain.