The comedy web series was one of the more interesting and influential adaptions of the web medium. It reversed the principles of traditional entertainment to create videos that were more approachable.
---
For a web series, it was a good idea. Run through the nine best websites every day. Give it a great host. Punch it up with some jokes. Do it five days a week. Rinse and repeat.
That was the concept behind The 9, a show that streamed daily via the web on Yahoo from 2006 to 2008. It was hosted by Maria Sansone, by then already an industry veteran despite her young age. Sansone made headlines as the youngest reporter on network television when she hosted a kid-focused sports show on NBC when she was just 11. After that, she made appearances on Live with Regis and Kelly and MTV. As host of The 9, her effortless charisma helped elevate the show with a new web audience.
Each day, the show's producers would scour the web for the best links they could find. They'd take the best nine and add them to the list on 9.yahoo.com for Sansone to introduce. For four minutes each day, Sanonse would go through the list, and make a quip or two about each one. Sometimes, she'd interview a web celebrity or bring on a guest host.
Every episode would end her with her signature tagline: "Now get back to work."
The first episode aired on July 10, 2006. To help her host the show, Sansone brought on the star of the web series Ask a Ninja for a movie review. In so doing, The 9 connected itself to a world on the web that was just coming into its own. A new kind of comedy web series that would influence our entertainment landscape for years to come.
---
Ricky Van Veen and Josh Abramson were teenagers when they came up with the idea for a new website. It was 1999. They wanted to create a portal of some kind, somewhere were all of the funny videos that circulated through their college dorm could live. Or maybe it was a way to meet and chat with college friends online. The idea wasn't all that well defined. Neither was the name. Abramson and Van Veen searched through a database of domain names until they found one they thought would work. CollegeHumor.com.
The site began as a collection of low-brow content targeted at college age students. Videos and pictures were uploaded by users. It mirrored the kind of lowest common denominator jokes you might found around an average frat house. But it did become very popular.
Throughout the mid-2000's, CollegeHumor evolved into something else entirely. It began producing original videos, written and starring comedians from the sketch comedy and improv scenes of New York City — in large numbers from the Upright Citizens Brigade Theater (UCB) — and, later, Los Angeles. As time went on, the videos of CollegeHumor became even more essential to its business model. Videos were released nearly every day, a weird mix of sketch comedy infused with referential web humor and irony. Some were recurring segments. Others were standalone. Two CollegeHumor employees would even start their own video streaming platform just to support CollegeHumor videos. They called it Vimeo.
CollegeHumor wasn't the first group to make funny videos on the Internet, but they did manage to strike the moment particularly well. What the staff at CollegeHumor — a collection of sketch comedians fresh out of college — managed to do was to make web content that was different than what you might see elsewhere. They understood the web better than most.
The videos were only a few minutes long. They were often short on plot and big on punchlines. The production value was almost non-existent, filmed on consumer level and still fairly new digital cameras with natural light and in the real world. The videos didn't always make sense. They were layered with pop culture references that were sometimes hard to follow. They made tiny nods to popular communities constantly, poking fun at Reddit, or Facebook, or YouTube. Their videos followed the sketch comedy template, but they were situated within web culture. They belonged on the web.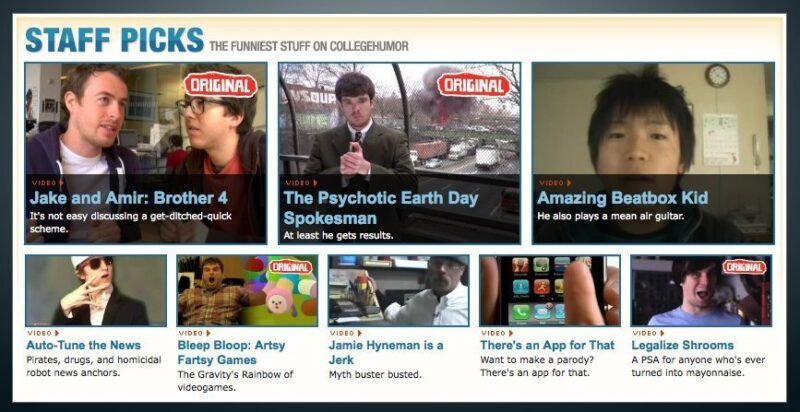 The recurring series Jake & Amir, for instance, began as a side project of two CollegeHumor employees, Jake Hurwitz and Amir Blumenfeld. Over time, it became a cornerstone of the CollegeHumor site. Most episodes were little more than a talking heads style exchange between the two principal characters. Over time, however, they expanded the show with guest appearances by "web-famous" comedians like Abbi Jacobson and Illana Glazer of Broad City, Thomas Middleditch, Ben Schwartz, and Allison Williams, and performers from other web series like Autotune the News and Freestyle Love Supreme (which included now-megastar Lin Manuel-Miranda). For a while, it felt like anyone who passed through their show in a minor appearance went on to become an integral part of the next generation of comedy.
Jake & Amir were massively popular. It even won them an award at the short-lived awards show at The 9.
The 9 launched at a time that web series were becoming more and more popular, apart from their network counterparts. The show was developed by the Yahoo Media Group, a relatively short lived experiment launched by a couple of network executives in the mid-2000's. Its goal was to bring some of the tactics of network television to the web, to better monetize the new form of video streaming. The 9 was, by far, its most successful venture.
Viewers tuned in day after day to get their list of sites. And the show featured all kinds of content, from obscure net experiments to mainstream brand websites. It's producers started their days at the crack of drawn, surfing the web for its best content. Coupled with Sansone's unique ability to make any site sound alluring, the show continued to grow.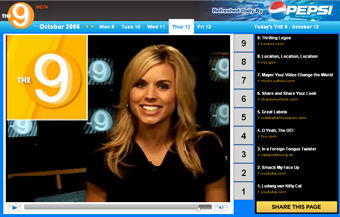 It quickly grew beyond its initial ambition, boosted by a sole sponsorship from Pepsi. In under a year, guest appearances in earlier episodes from unknown comedians like Hurwitz and Blumenfeld were replaced by a star-studded lineup of television and movie stars with web appeal, like Emma Watson, Jimmy Fallon, Molly Shannon, Neil Patrick Harris, and even Kermit the Frog. The show got longer, four minutes wouldn't cut it anymore. There were celebrity interviews and more sponsor spots. What once was a web series started looking a lot more like TV.
Once again, The 9 was simply foreshadowing things to come.
Hollywood had begun to take notice. Web series were attracting hundreds of thousands, and then millions, of views. Their audiences were loyal and the content was relatively cheap to produce. By the mid-2000's, web series and YouTube stars were finding their way onto network television. The earliest example is likely the YouTube group Lonely Island, recruited by Saturday Night Live to produce video shorts that appealed to a younger generation of comedy fans. When Amy Poehler (one of the founders of UCB) saw a few episodes of the Broad City web series, she got them set up with Comedy Central for a regular show. Even CollegeHumor alum, Adam Conover, got his own web series on TV years later, with the network debut of Adam Ruins Everything.
However, instead of seeing the web series as a unique kind of content born and made for web audiences, many producers and executives recognized the web series as little more than a launching pad to bigger things. It was seen as a way to test out concepts on the cheap, and invest in talent only after they garnered relative success. Silicon Valley and Hollywood fused for several years in an attempt to find the magic formula of web based content that could become the next big thing.
Microsoft, DreamWorks, Shockwave, Sony, NBC, HBO, and even Budweiser each had their web-based video platform to their name. The list goes on and on. They all failed. There was no formula. Audiences saw right through it.
It wasn't until comedians well inside the Hollywood system but still grounded to their sketch comedy roots that a comedy video platform would finally succeed. Will Ferrell and Adam McKay had worked together on SNL, and had kept their relationship after. While writing the script for what would eventually become Stepbrothers, Ferrel and McKay along with fellow writer Chris Henchy and investor Mark Kvamme, launched Funny or Die in 2007. The first video on the site was an irreverent short starring Will Ferrell and McKay's 2 year-old daughter called The Landlord. Millions of people flooded the site to see it.
Funny or Die was a video streaming platform for comedy shorts. It wasn't a direct competitor to YouTube, but it did share some of the online video giant's goals. Users could upload their own videos to the site, and visitors could give each a video a thumbs up or down. Enough upvotes and you might even find yourself on the homepage.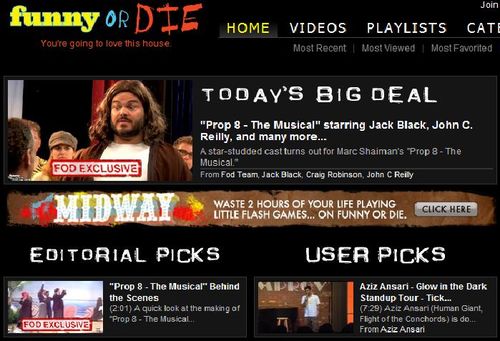 The success that followed Funny or Die arose from its ability to source A-list movie and television stars and pair them with an unfiltered style much more at home on the web. In the beginning videos were filmed at a makeshift locations known as the Shed, which John Hamm once described as "a shitty, weird little space on this side street in deepest, grossest Hollywood." But mainstream comedians returned to the platform again and again to try out their wildest ideas. Videos from famous comedians appeared on the site next to amateur content uploaded by its users. In theory, anybody could unseat the king. And Funny or Die finally gave funny web videos a home.
The 9 fizzled out around in the spring of 2008. Yahoo was ready to try bigger and better things. The show brought star power, but it was never able to fully breakthrough beyond a smaller, dedicated audience of web users. But none of their other ventures would match The 9's success. The Yahoo Media Group would eventually collapse back into the company. Sansone, the show's host, wound up back on network television, like so many of her web series counterparts. And The 9 became just another footnote on the evolving medium of the web. But those that lived through the show's short tenure won't soon forget it.
Now get back to work.