I could have titled this "A Tale of Two Acquisitions," but I already used that one. Still, we're going to take a look at two hugely successful platforms that rapidly rose to the top of their game, only to come crashing back down after their acquisition. An acquisition, I might add, by the same company. The two might have ended up in different places, but their stories are inextricably linked. Just like we always do, it's probably best to start at the beginning. Because they both began as accidents.
Flickr was once a game. It was a game called Game Neverending and the object of the game was not to win, but to cooperate with other users in a never-ending (get it) effort to manifest from nothing the vastness of a cooperative universe. Buried within it was a whole messaging component that let gamers chat with, buy items from, and sell items to other gamers. There was even a way to share photos, with discussions that took place in real time.
Game Neverending was first conceived by Caterina Fake and Stewart Butterfield, and developed at their company Ludicorp, in 2002. A massively multiplayer, open-world game that never ends but simply evolves is a bit ambitious, and in the early 2000's, it wound up being too ambitious. One year turned into two and Ludicorp, at this point running out of cash, still had very little actual game to show for it. But their photo sharing feature was great. Fake and Butterfield thought it might be a good idea to bet hard on this single aspect of the game, and spin it out into a brand new, online, photo sharing platform. The team took a vote, and by a margin of just one, that idea won out. Game Neverending would become Flickr.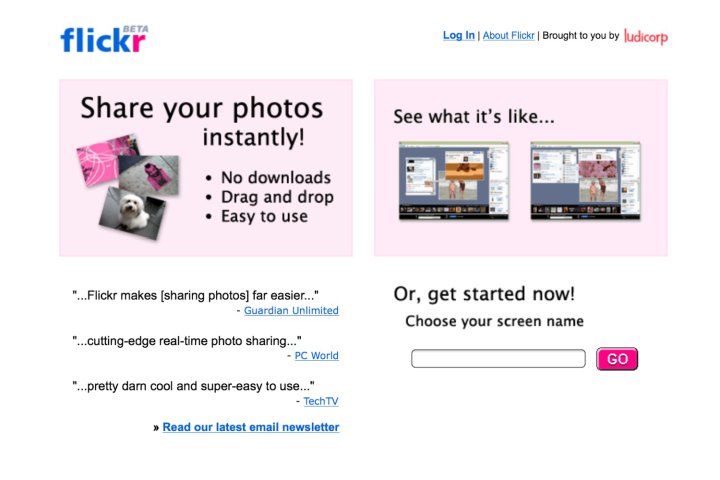 Delicious was more of a side project. In the late 90's, Joshua Schachter started collecting links from readers of his blog, sorting through each and archiving them in a file on his computer. Schachter knew that at some point he'd want to dig up some of the pages he had linked to, so he attached a few notable keywords (words he might actually remember and associate with the post) to each. Each keyword was prefixed with a # symbol, which made it a whole lot easier to search for them using a command line utility called grep. And that's basically how tags were born on the web.
$ grep 

' #'

 links 

|

 head 

-

1
Schachter briefly tried his hand at a bookmarking side project called Muxway, but he eventually partnered up with Peter Gadjokov to create Delicious, a "social bookmarking" platform, in 2003. Delicious was social because of tags. As users collected bookmarks (using a handy bookmarklet tool) into their Delicious account, they would tag each one with just about whatever came to mind, just as Schachter did when he first started out. We are unique people of course. We come up with some pretty weird tag names. But more often than not, we gravitate towards common nomenclature, and it wasn't long before tag archive pages on Delicious began filling up with the contributions of users across the platform. Tags acted as an organizing mechanism, giving users a common ground and acting as a starting point for threads of conversation.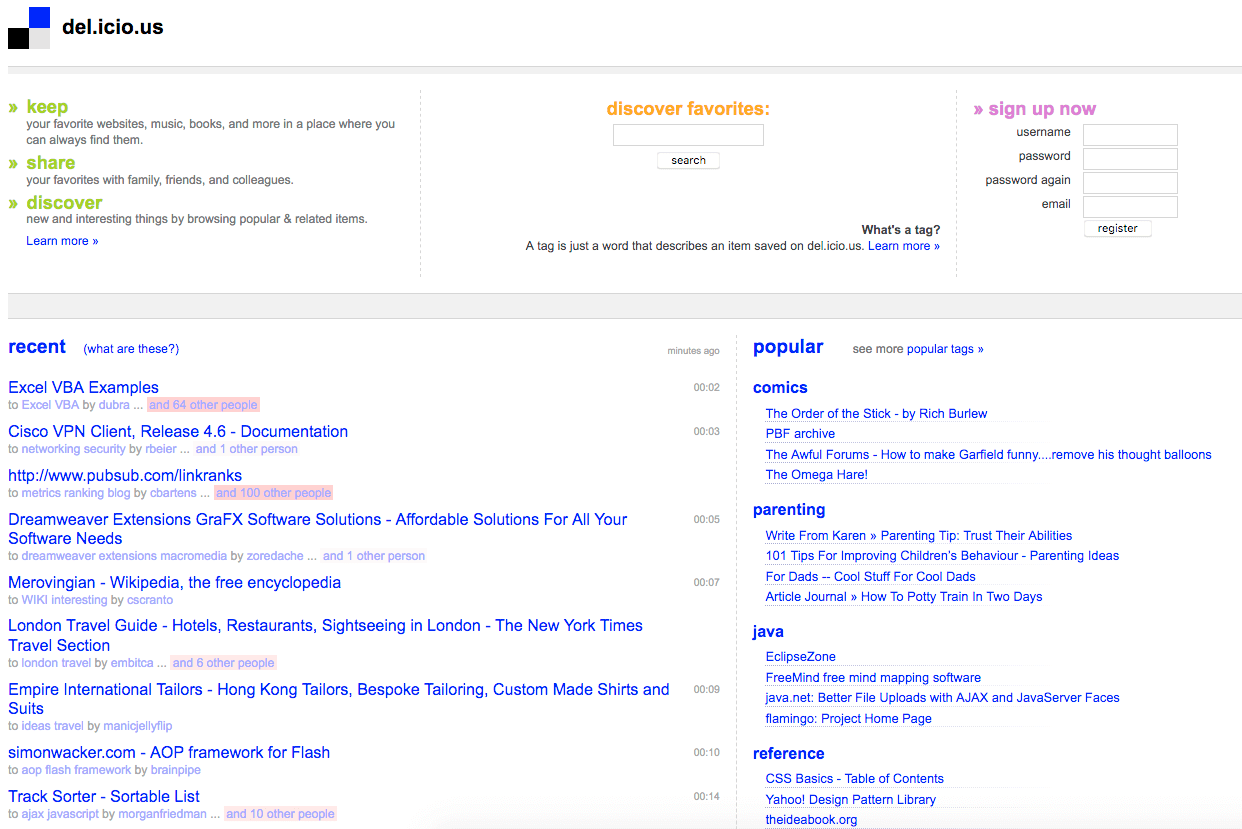 Flickr was officially unveiled to the public in February of 2004 at the O'Reilly Emerging Tech conference. It was not the first photo sharing app. Shutterfly, Snapfish, and Ofoto had all come before it. But Flickr rallied behind social first, photos second. Flickr was a place of community, photos were just the starting point in a much larger call and reply type discussions, happening in little moments all across the site, and bolstered by new features like photostreams, groups, and taking their cue from Delicious, tags.
Delicious enjoyed a very similar type of success, but unlike Flickr, there really weren't any other services doing the same thing at the time. So Delicious became the de facto home base for all things bookmarks. Schachter even took on funding in 2004 to help the site grow.
Then Yahoo came calling.
Yahoo first hit the web in 1994, a simple directory of sites organized into some relatively useful categories. By the mid-2000's, they had ballooned in size and influence, staking their claim as one of the emerging tech giants of the Web 2.o era. In their rearview loomed Google, a company whose name was literally becoming synonymous with searching the web. Yahoo was losing precious ground to their fiercest competitor in a battle they simply could not win with the technology they had. It was time for something new.
Yahoo first approached Flickr in late 2004. It actually didn't go all that great, as the team botched their demonstration to Yahoo and surfaced a pretty major bug right in the middle. Not that it mattered. Yahoo knew what they wanted, and in March of 2005 they acquired Flickr, absorbing the whole team in the process. Delicious wasn't too far behind. Yahoo acquired that platform in December.
An idea began to circulate on blogs and in the press. Yahoo was finally getting serious about social. It wasn't just Delicious and Flickr. Yahoo had started scooping up a half a dozen or so social platforms, like Upcoming, a social calendaring app. Their strategy, for a lot of those prone to speculation, could not be more apparent. The writing was firmly on the wall. Yahoo's aim appeared to be to forget all about Google and build a brand new social domain on the web, complete with platforms dedicated to every kind of interaction. They certainly had purchased the right tools for the job.
No go. That wasn't their strategy at all. Yahoo had every intention of competing with Google, and was missing only a solid source of data as a baseline. They acquired Delicious and Flickr because buried in their databases were a proverbial gold mine of tagged and organized data. Their social features were incidental.
Which some might recall with some dread as the beginning of the end for Delicious and Flickr. From Yahoo's perspective though, their goal was to absorb the two into their own platform, not the other way around. They had pieced together a grand vision of a one stop shop for your data, collected and neatly organized for you in one place. But they forgot that users had signed up for Flickr and Delicious, not for Yahoo. They didn't want things neat. They wanted conversation.
For a few years, the platforms actually surged under the new leadership, readily flush with cash and resources, backed by an unprecedented reach, and with loads of ideas in the backlog. But little by little development slowed down. Yahoo introduced one initiative after another, focusing their efforts on centralizing login systems and connecting up services rather than boosting what was already there. From about 2006 onward, very little was added to either platform. And in 2010, two years after the iPhone had first come out, Flickr still didn't have a mobile app, missing out on where people just plain where.
By 2011, Yahoo had pieced together a patchwork of loosely connected platforms, firmly a jack of all trades, but sadly a master of none. Facebook had won the social game almost as efficiently as Google had won search. In a new era of monolithic tech giants that tucked users into specialized domains, Yahoo was left out in the cold. For photos, there was this new app Instagram. Pinboard, an independent social bookmarking site, had even begun to chip away at Delicious' marketshare.
In December of 2010 a leaked photo from a Yahoo staff meeting was posted to Twitter. Within literal minutes, it was being posted to tech blogs and reposted like wildfire across the web. The image showed three columns labeled "Sunset," "Merge" and "Make Feature." In that first column, hovering under Sunset, was the Delicious logo. It appeared that Yahoo was just about done with it. In April of 2011 they sold it to Avos.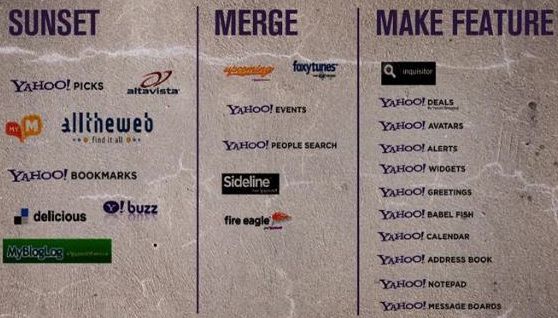 Flickr kept growing, but it started to rot from the inside from lack of attention. Butterfield and Fake had both left Yahoo in 2008 (as had Schachter), about as soon as they were legally able to, and Yahoo itself shifted CEOs on a semi-regular basis. There was no direction and no guidance. Users wanted more, but when the platform languished, they began moving elsewhere. Plenty loved Flickr. Some still do. But it was hardly able to keep up.
Butterfield eventually went on to try to make a new version of Game Neverending. He once again failed, but spun out one of the core features once again into the platform Slack. Fake went on to create Findery, a social app for travelers. Delicious was bought and sold no less than 5 times, most recently (ironically enough) by Pinboard in July of 2017.
When Flickr first got going, the team used to email every new member individually to welcome them to the site. They cared about people. Social was the activity, not a random feature. That's the legacy these platforms left behind, one of community and free exchange. We owe a lot to Delicious and Flickr, but as the web ebbs and flows, some sites are bound to get lost.