1996 was the year of the city guide. By 1998, they were already gone.
---
Bill Gross spent a lot of time on the early web developing ideas ahead of their time. In 1997, his search engine, GoTo.com (later Overture) invented the modern auction based ad model that Google's Adsense would later adopt. Years earlier, In 1994, he helped create CitySearch, a regional take on the border-less web.
Gross had a working theory. The Internet, global and decentralized as it was, needed to also feel local. The vastness of the web might have offered seemingly infinite information, but people still had a need to find and connect with what was immediately around them. CitySearch, therefore, began as a Yellow Pages for the web, a directory of local businesses scoped to individual zip codes.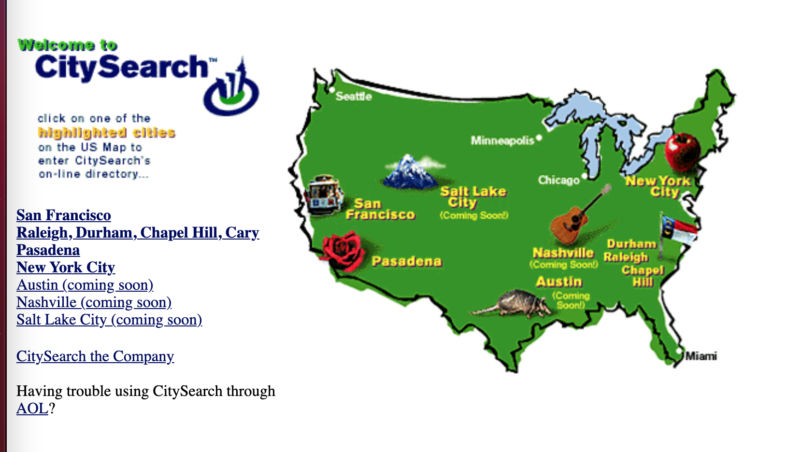 That year, Elon Musk was in Silicon Valley, hoping to attach himself to the rising fortunes of the Internet boom. He had learned to code at an early age, and though his academic studies had pulled him towards physics, he still hoped to make it as a Silicon Valley programmer. He tried—and failed—to get a job at Netscape and other Internet startups.
Failing that, Musk joined with his brother Kimbal and investor Greg Khouri to look at creating their own Internet company to ride upward. Using their considerable rolodex of contacts and some initial seed money, the founders created Zip2.
It began, not unlike CitySearch, as a local listing of businesses. Musk combined data he was able to acquire from a business directory with a GPS database to code up a map-based interface for viewing business listings in an easily searchable web interface. Early versions of the site even featured classifieds and user-submitted reviews.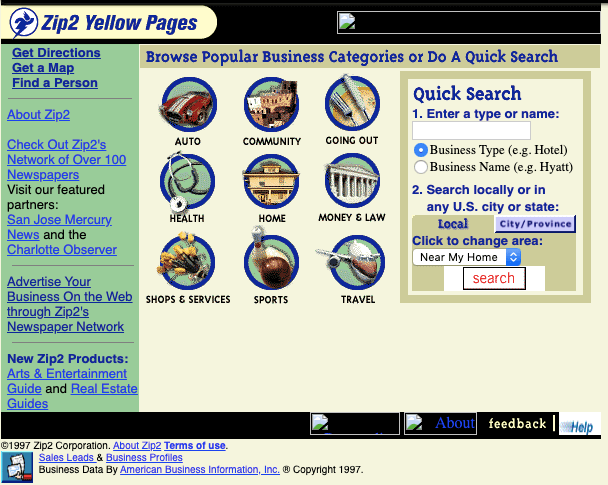 Zip2, unlike CitySearch, recognized that they weren't limited by the confines of the offline Yellow Pages. Digital space was, after all, infinitely expandable. By 1997, Zip2 had begun to shift towards becoming a more complete local platform, with listings for local events, real estate, and even some basic news and editorial content. CitySearch soon followed suit.
Then came the real coup for Zip2. In the mid-90's, The New York Times brought in industry veteran Martin Nisenholtz from Ogilvy to run their tech properties. Very quickly, he helped build their web presence earlier than most newspapers. Eventually, his division was spun out into an independent unit known as New York Times Digital—meant to capitalize on the venture-backed boom of the tech industry—with Nisenholtz acting as CEO.
In 1998, Nisenholtz partnered with Zip2 (with Musk acting as Chief Technology Officer under then-CEO Rich Sorkin) to launch a joint venture, NYToday.com. Though Zip2 powered the technology behind the site, NYToday was very much a New York Times venture. "The Times, evidently, fancies itself a software company," a reporter noted in the Village Voice at the time of launch.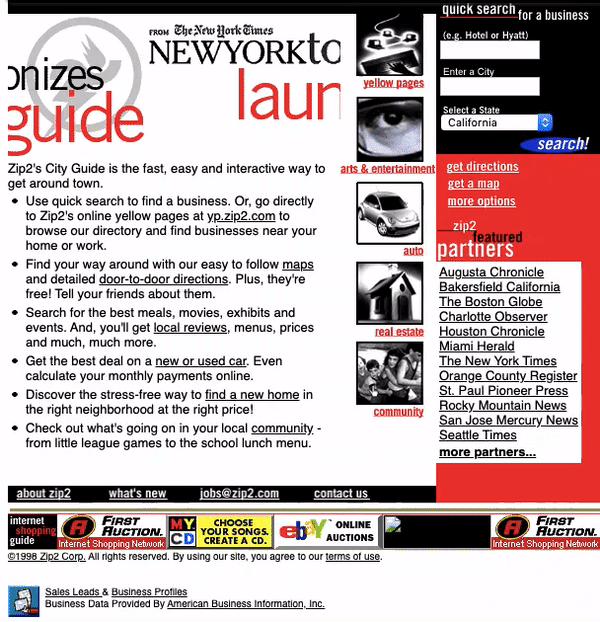 In addition to business listings, directions, and reviews, The New York Times brought a robust content offering, with community news, arts and entertainment posts, and information on museums and other local events. The Times sourced content from their world-class journalism operation to create individual pages for local vendors, and Zip2 provided personalized, location based search and listings.
By the time NYToday was launched, city guides were at the peak of their hype cycle; the next big thing on the web. Zip2 expanded to dozens of other newspaper partnerships, as CitySearch expanded its news and editorial content to provide greater depth. The two companies made a play for a growing market.
And then, Microsoft launched their own competitor, known as Sidewalk. Many Internet companies would come to feel the pressure of Microsoft entering the market as the company awoke to the threat and opportunity of the web. Some would be able to outmaneuver the tech behemoth. Most couldn't.
Sidewalk wasn't markedly different than its competition. It debuted in ten cities, with many of the same local editorial, reviews, and events as Zip2. Backed by millions of dollars of investment, they produced elaborate arts and entertainment virtual "guides" for navigating the sights and businesses of a locale. The real target, however, was the swollen classified and local advertisement market, which Microsoft eyed as a potential windfall.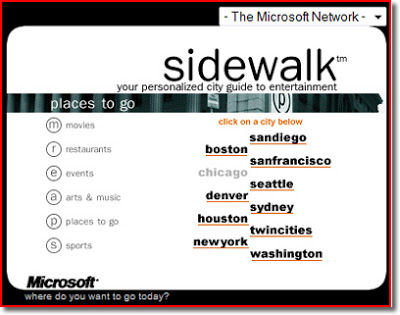 Musk, meanwhile, was becoming restless at Zip2. As an expanding company with massive investment and a board of directors, Musk was no longer working on the day to day programming work. A fresh batch of programmers came in to revamp the code and build out the next iteration of Zip2—focused more on newspaper partnerships—which often led to tension and conflict between Musk and his employees.
Sorkin, meanwhile, had begun talking to CitySearch about a possible merger. The goal was to position the company to better take on Microsoft. Some initial news announcements went out about the merger, but in the 11th hour Musk swooped in to scuttle the deal with the board, and try to take over as CEO. He succeeded in ousting Sorkin, but rather than merge with CitySearch, the board decided to sell to Compaq in 1999. Zip2 was eventually folded into another Compaq acquisition, AltaVista, as the web moved towards the so-called portal wars of the late-90's (featuring companies like Yahoo!, Geocities and Excite).
CitySearch soon sold to Ticketmaster, to become an extension of their event offerings. The company continued to grow, and with the backing of Ticketmaster was even able to outstrip the competition.
Sidewalk was never able to keep, even as their competitors talked mergers and acquisitions. Its missteps and constant downturn are what one writer called "a case study in excessive burn rate and diminished returns." Microsoft's early missteps with the Internet can mostly be attributed to a desire for control—and that was the case with Sidewalk. Its local advertising was never enough to support such massive investment and without a true spark of connection, the site failed and users moved on.
Sidewalk was eventually sold off to CitySearch, which sustained its success for over a decade. Microsoft attempted to forget that they had ever tried a city guide in the first place. Zip2 languished under AltaVista, and was never truly able to get off the ground. Eventually, it simply faded away. Musk, for his part, walked away with enough cash to create his next company, X.com, which would eventually be acquired by Paypal. And city guides never became what they were hyped to be.